Our delicious and easy to follow recipes
Often detoxing conjures up ideas of starvation and lack of variety, however our no-starvation plan is nothing like this. Instead we have provided you with a guide full of delicious, nourishing breakfasts, lunches, and dinners with a little help of our comprehensive organic shopping list, meaning that you can make delicious and nutritious recipes for you and your whole family that are delicious and will satisfy cravings.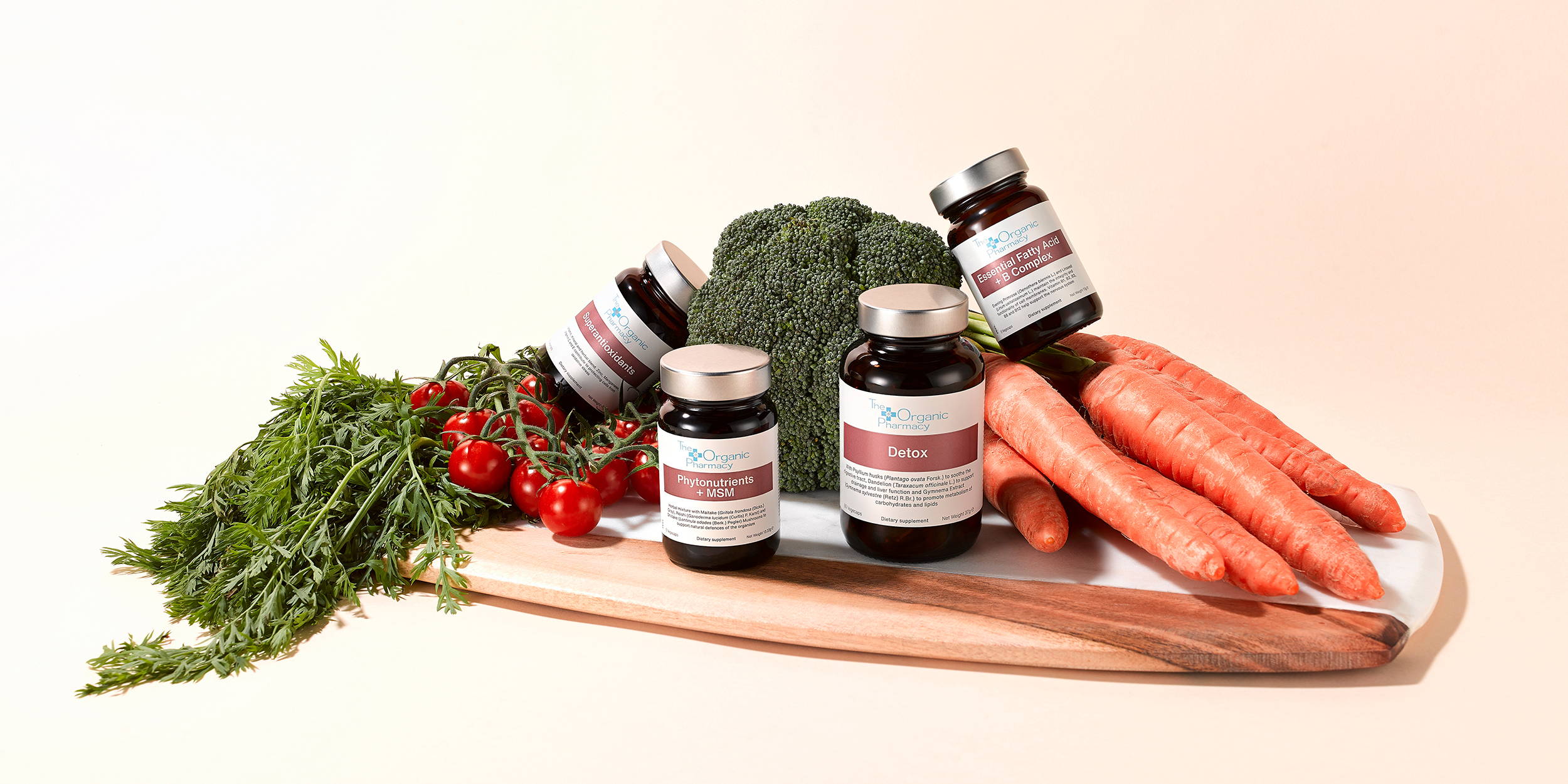 Breakfast Options
BLUEBERRY SMOOTHIE BOWL
INGREDIENTS
SMOOTHIE
90g frozen blueberries
1 diced and frozen banana
100ml vegan milk (oat is perfect)
GARNISH
1 tsp chia
Coconut flakes
½ banana slice thin
A few frozen blueberries
METHOD
• Blend the smoothie ingredients until silky and thick (add vegan protein if needed).
• Place in a bowl and garnish with the rest of the ingredients.
INGREDIENTS
150g vegan yogurt of choice
1 tsp agave syrup
4 crushed walnuts1 tsp
METHOD
• Simply place the ingredients into a bowl and enjoy.
QUINOA PORRIDGE WITH PEAR
INGREDIENTS
50g tri-colour quinoa
100ml unsweetened coconut milk
20ml of water
1 tsp of agave syrup
A pinch of salt
¼ tsp of vanilla extract
½ pear de-seeded and diced
¼ tsp cinnamon
METHOD
• Weight all ingredients other than the pear and cinnamon into a small saucepan put a lid on the pan and place on a medium heat.
• Bring to a simmer and allow to cook until the quinoa is soft add more liquid whilst cooking if needed.
• Dice the pear and toss with the cinnamon.
• Once the porridge is cooked place into a breakfast bowl and place the pear on top.
SWEET POTATO DETOX BREAKFAST BOWL
INGREDIENTS
1 small sweet potato
Heaped tbsp of nut butter
50g fresh blueberries and raspberries
2 tbsp oatly vegan crème fraiche
1 tsp coconut shavings
Agave to taste
Pinch of nutmeg or cinnamon
METHOD
• Pierse the sweet potato a few times with the tip of a knife then bake at 180°C for 30 minutes or until soft.
• Take the sweet potato out of the oven, cut it down the middle then scoop out the insides and place into a bowl.
• Drizzle on the agave and sprinkle with nutmeg or cinnamon.
• Garnish with the remaining ingredients.
VEGAN FRENCH TOAST WITH GRAPEFRUIT AND ALMONDS
INGREDIENTS
BATTER FOR FRENCH TOAST
½ tbsp ground chia seeds
¼ tsp agave syrup
100ml vegan milk (almond or oat work best)
¼ tsp ground cinnamon
A few drops of vanilla essence
OTHER INGREDIENTS
2 slices of sour dough bread
1 tsp vegan butter
½ grapefruit peeled and sliced thin
1 tbsp almonds flakes
METHOD
• Measure all batter ingredients into a bowl, whisk to combine and then leave to sit for 10 mins
• Soak the bread in the batter mix.
• Heat the butter in a frying pan. Remove the excess liquid from the bread and place into the hot butter.
• Fry the bread on both sides until gold brown.
• Whilst the bread is browning peel and slice the grapefruit.
• When the bread is cooked place onto a plate and garnish with the grapefruit slices and almond flakes.

AUBERGINE STUFFED WITH QUINOA AND RED PEPPER THEN SPRINKLED WITH POMEGRANATE
INGREDIENTS
½ aubergine cut long ways and scored
120g cooked quinoa
½ diced red pepper
Pinch cumin
Pinch turmeric
¼ tsp toasted coriander and fennel seeds
1tbsp pine nuts
1 tbsp pomegranate seeds
Hand full of rocket
Serve with tahini and vegan feta
METHOD
• To start roast the aubergine and red peppers with a little salt and olive oil for 15/20 minutes.
• Mix the hot quinoa with the spices and some salt.
• Once cooked scoop out the flesh of the aubergine and add this and the peppers to the quinoa.
• Place the quinoa mix back into the skin of the aubergine and plate with a salad of rocket, pine nuts and pomegranate.
WARM ROSEMARY LENTILS WITH ROASTED TOMATO & TEMPEH WITH COURGETTE RIBBONS AND CRESS
INGREDIENTS
90g cooked lentils
1 tsp chopped fresh rosemary
1 tsp olive oil
8 cherry tomatoes sliced in ½
50g tempeh sliced thin
½ medium courgette ribbons
Mixed cress to garnish
METHOD
• Place the tomatoes and tempeh on to a roasting tray season with salt, pepper and 1/2 olive oil then put into the oven at 180 for 10 minutes.
• Place the hot cooked lentils into a mixing with the courgette ribbons and remaining oil and toss well.
• Serve on a plate or bowl starting with the lentils then the tomatoes and garnish with cress.
ROASTED RED PEPPER AND TOMATO SOUP WITH PUMPKIN SEED PESTO
INGREDIENTS
150g red peppers de-seeded and diced
150g vine tomatoes cut in half
1 clove garlic
½ red onion
150ml veg stock
METHOD
• For the soup roast the peppers, tomatoes, garlic, onion and a little salt for 20mins at 180°C then blend with the stock until smooth.
• To make the pesto simply blend the pumpkin seeds, basil, olive oil, water and a pinch of salt.
• Serve the soup in a bowl with the pesto drizzled on top.
JERUSALEM ARTICHOKE SOUP WITH WALNUT OIL AND FRESH CORIANDER
INGREDIENTS
150g peeled dice artichoke
50g vegan milk of choice
150ml veg stock
1 tsp vegan butter
½ clove of garlic finely sliced
50g celery
Drizzle of walnut oil
10g chopped coriander
METHOD
• Start by heating the butter in a small saucepan once the butter is hot add the garlic, celery and a pinch of salt then cook until soft and slightly browned.
• Add the artichoke, milk and veg stock.
• Simmer until soft and blend. Till the soup is silky smooth.
• Serve with chopped coriander and a drizzle of walnut oil.

WHITE BEAN, KALE AND PARSLEY WITH SUNDRIED TOMATO, PAPRIKA AND BALSAMIC DRESSING (ADD LEMON AND ROSEMARY ROASTED CHICKEN)
INGREDIENTS
60g white bean
80g kale chopped
10g parsley
20g sour dough croutons
20g sundried tomato paste
20g balsamic vinegar
20g water
½ smoked paprika
Serve with roasted chicken or tempeh
METHOD
• Place a little oil in a frying pan followed by the kale and white beans then put on a medium heat until the kale starts to soften slightly.
• For the dressing blend the water, balsamic vinegar, paprika and sundried tomato paste.
• To serve place the kale mix on a plate followed by the croutons, parsley and dressing.
• Add protein or eat it just like this.
GRILLED PEACH SALAD WITH BLUEBERRIES AND SPINACH
INGREDIENTS
1 peach de-stoned and sliced into wedges
40g blueberries
Handful of spinach
Handful of rocket
20g vegan feta crumbled
20g pecan
Olive oil
Lemon juice
Dijon mustard
METHOD
• Start by mixing the olive oil, lemon juice and mustard in a mixing bowl.
• Toss all remaining ingredients in the dressing other than the pecans.
• Serve in a bowl and garnish with crushed pecans.
SPROUTING BROCCOLI AND GREEN BEANS WITH HAZELNUTS AND TAHINI SAUCE (SERVE WITH PROTEIN IF NEEDED)
INGREDIENTS
100g sprouting broccoli
80g green beans
10g mint
10g parsley
20g hazelnuts
1 tbsp tahini
Pinch of salt and cumin
30ml water
Squeeze of lemon
90g of chosen protein
METHOD
• For the dressing mix the tahini, water, cumin, salt and lemon juice in a mixing bowl.
• Blanch the vegetables in boiling salted water for 4 minutes then toss in the dressing.
• Serve on a plate and scatter with herbs and hazelnuts.
• Serve with 90g of pouched salmon, miso tempeh or roasted chicken.
TURMERIC AND COCONUT SOUP WITH TOFU, CORIANDER AND SWEET POTATO
INGREDIENTS
1 tbsp organic yellow curry paste
1 tsp turmeric powder
½ can coconut milk
50g diced tofu
½ medium sweet potato diced
1 tsp sesame seeds
¼ bunch of coriander
METHOD
• Start by putting the tofu onto a roasting tray with half the turmeric powder and a little oil, salt and pepper then roast at 180°C for 10 mins.
• Boil the sweet potato until soft with the remaining turmeric powder and a pinch of salt.
• In a small saucepan cook out the curry paste for a few minutes stirring continuously so it doesn't stick to the pan after add the coconut milk and simmer for a further 5 minutes.
• Serve in a bowl and garnish with the sesame seeds and coriander.