Make this delicious salad at home, containing iron-rich spinach and broccoli - high in vitamins C and K - and cholesterol-lowering avocado, and enjoy a nutritious lunch anytime.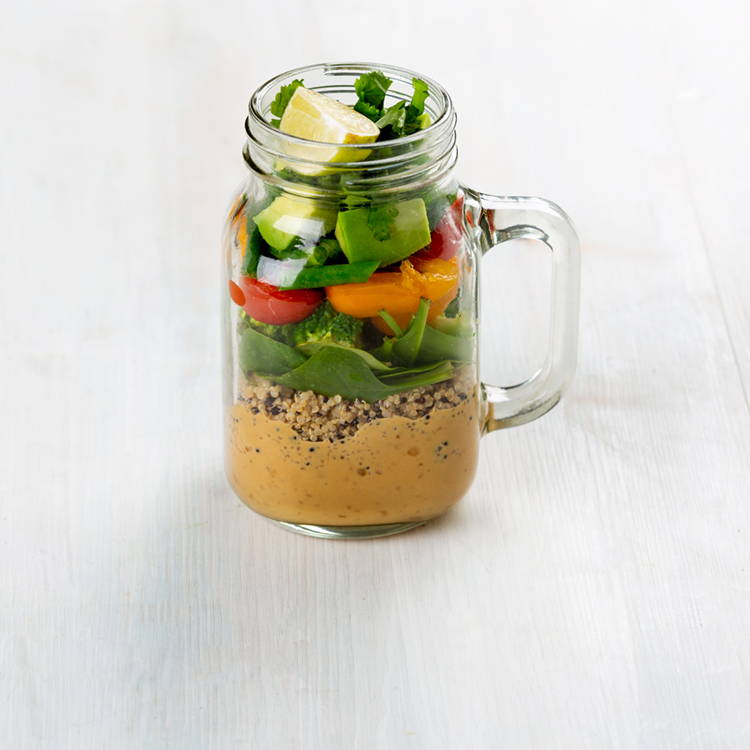 Ingredients:
1 tablespoon olive oil
Salt + pepper
2 cups cooked quinoa
1/2 steamed broccoli
4 cups raw spinach (or greens of choice)
5 cherry tomatoes halved
Half an avocado cubed for the dressing
2 tablespoons olive oil
2 tablespoons apple cider vinegar
1 tablespoon tahini
1 teaspoon miso
1/2 teaspoon garlic powder Pinch of sea salt
Water as needed
Method:
Preheat the oven to 220°C
Steam the broccoli (and any other vegetables you want to add)
Prepare the dressing – whisk together all the ingredients in a small bowl. Add water, one tablespoon at a time until you reach a consistency that is creamy, smooth and can be easily poured out of the bowl.
When ready to assemble the salads, grab two wide mouth mason jars (quart size).
Divide the dressing evenly among the 2 jars.
Seal the jars and leave in the fridge for at up to 4 days