Drone technology, more usually associated with unmanned surveillance flights, comes to cosmetics with a breakthrough delivery system on a mission to target fat cells with active ingredients.

Our Resculpting Body Serum works to resculpt and firm using targeted technology in the form of a microscopic cosmetic drone. The innovative delivery system encapsulates a payload of Sea Grape surrounded by Peptides, encoded to reach specific fat cell receptors where they message the genes implicated in fat cell creation and storage, promoting lipolysis, the breakdown of fat. The drones are supported by an army of firming and toning plant extracts including Kigelia, Garcinia, Green Coffee and Chilli. Additionally, a bio-vitamin complex of Pomegranate, Vitamin E and Orange helps revitalise and tone the skin.
INCH LOSS
SMOOTHER LOOKING SKIN
FIRMER AND HYDRATED SKIN
INCREASED ELASTICITY
REDUCED APPEARANCE OF CELLULITE


Drone Technology delivers
actives directly to fat cells
SLIMMING
Sea Grape + Peptide : An encapsulated peptide to deliver targeted and active slimming ingredients to reduce fat cells.
Fig: Assists in the reduction of the size of adipocytes and reduction of dimpled skin.
Green Coffee: Stimulates hydrolysis of fats into fatty acids and glycerol, reducing fat cells and giving smoother skin.
FIRMING
Linseed Polyholosides: Helps redefine and lift the skin from within by stimulating GAG synthesis and collagen, resulting in plumper, smoother, firmed and moisturised skin.
Mukkul & Kigelia: Plum, firm and tone skin.
Orange, Pomegranate & Vitamin E: A powerful complex of antioxidants that fights free radicals and help to slow down the aging process.
DETOXING
Juniper: Acts as a local decongestant and diuretic helping to promote detoxification.
Mountain Ash: Improves the tone of veins and helps drain excess water around cells
Grapefruit: An excellent lymph stimulant helping the elimination of waste by removing excess water.
Chilli: Increases the flow of blood by 'heating' the skin and increasing the circulation to eliminate toxins and oxygenate.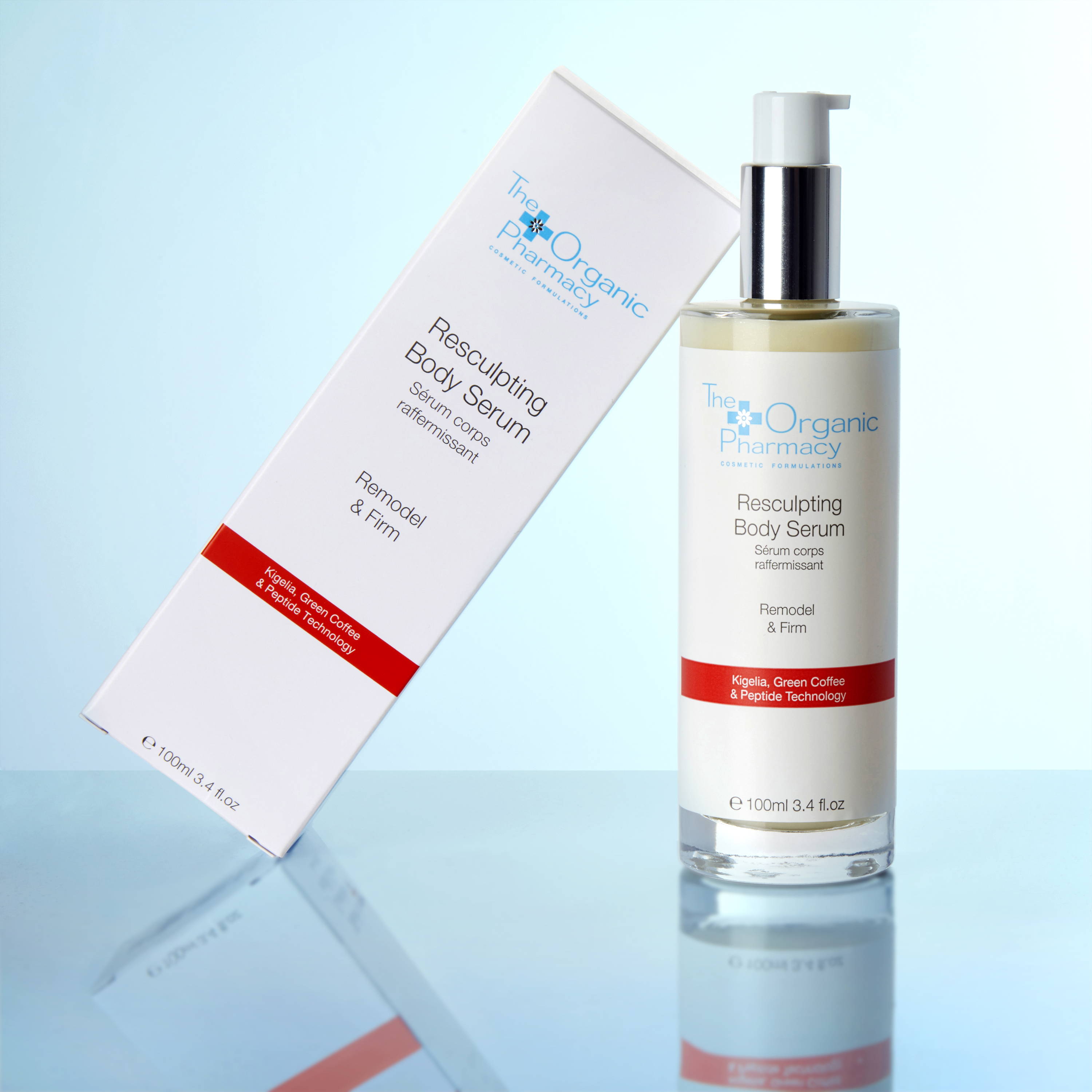 Our Top Tips
We recommend that you use this lightweight, cooling and anti-ageing serum liberally in the morning and night to your areas of concern such as arms, tummy, and legs.
Do not wash for a minimum of 12 hours to allow the encapsulated active ingredients to continue working their magic through the day or night.
You can try boosting the results by treating areas to our Skin Brush to exfoliate and remove dead skin cells to allow for the Resculpting Serum to penetrate more easily and even further into the skin.