Almond and Blueberry breakfast muffins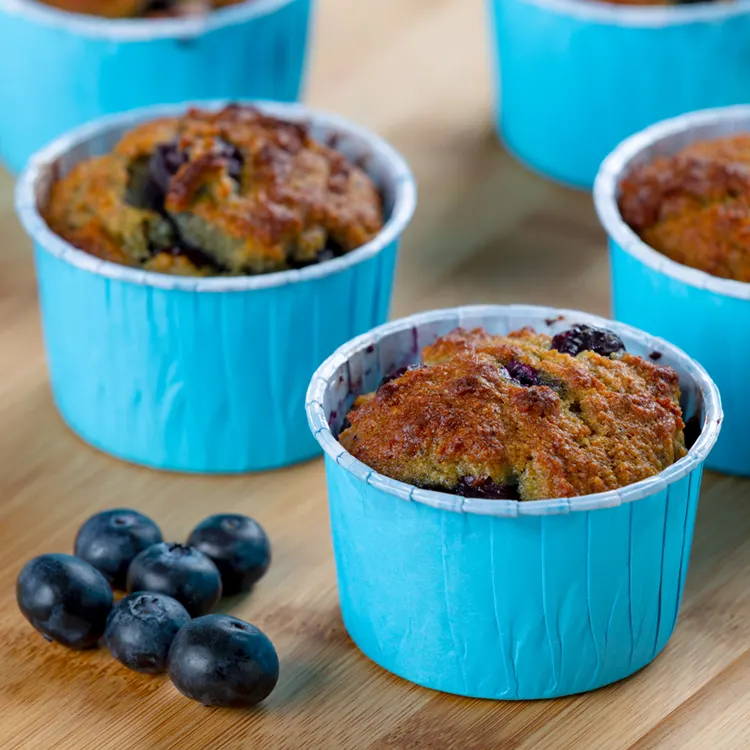 This high protein, low carb breakfast muffin is delicious and refined sugar free. The berries and honey are used to sweeten the muffin and you will find the high almond content helps keep you feeling fuller for longer. Coconut oil makes it a great healthy morning muffin. We've boosted the nutrition factor with blueberries, sea buckthorn and lingonberry powder, as well as a good helping of ground flax seeds. All ingredients are organic where possible.
Ingredients:
200g finely ground almonds
1⁄2 teaspoon baking soda
1/8th teaspoon sea salt
1 teaspoon blueberry powder (optional)
1 teaspoon sea buckthorn powder (optional) 1 teaspoon of lingonberry powder (optional) 2 teaspoons ground flax seeds
3 eggs
2 tablespoons coconut oil 4 tablespoons honey
2 teaspoons vanilla essence 1 tablespoon lemon juice
1 cup fresh blueberries
You will also need a muffin tin and muffin cups
Method:
Preheat oven to 170°C and grease muffin tin with coconut oil.
Combine all the dry ingredients and separately all the wet ingredients. Stir wet ingredients into dry ingredients and fold in blueberries.
Fill muffin cups and bake for 20-25 minutes until golden brown- cool on a wire rack and then enjoy!