Resculpting Thermal Body Wrap Treatment
Relax and melt away in this 90 minute resculpting thermal body treatment, incorporating targeted slimming techniques and ingredients with the use of Green Coffee and Chilli to break down fat cells, stimulate the skin, help boost the circulation and eliminate water and cellulite. Whist your areas of concern are under wraps your face will be rewarded with an antioxidant facial using our award winning cleansing balm.
From the first treatment your skin will feel smooth and your body slender and more defined. A course of 6 treatments is recommended with the use of our Detox Supplement Kit to treat from within.
Price:
- 90 mins £150
Immune Recovery Body Ritual
A full body massage starting with infused salt inhalations deep breathing to clear the respiratory system.
Lemon and Eucalyptus to reawaken your senses with enriching oils of Juniper and Fennel to encourage detoxification. Dry skin brushing followed by cupping massage are used to lift connective tissue and improve blood flow to stagnant skin and muscles to relieve pain, stress and boost the immune system and Lymph drainage and removal of toxins. This treatment Includes a dose of liver and kidney drops.
Duration: 75 minutes Price: £110
(& complimentary body brush)
Course of 6 available buy 5 get one treatment complimentary
£550 for a course of 6.
(note only x 1 body brush per course)
Lunar Cleanse for mind and body renewal. The treatment includes a Vitamin and Mineral Health Assessment, measuring your body's strengths and weaknesses followed by a strong and powerful lower body treatment using green coffee and chili oil to really kick start the cleanse, incorporating massage techniques to help reduce bloating and stimulate the flow of lymph and micro circulation.

Includes: 1 x Vitamin & Mineral Scan (20 minutes) & 1 x Green Coffee Body Sculpting (60 minutes)
Price:
- 80mins £75
Our massages are always tailored to your needs. The touch of an experienced therapist can bring about deep relief from tension, stress, pain and aches. Choose from: Energising deep tissue, Meditative relaxation or our Therapeutic detoxification.
Price:
- 90mins £90
- 60mins £70
- 30mins £50
Non Surgical Neck and Bust Lifting Treatment
Lift and tone the bust area with micro-current and our specially developed Breast Neck and Bottom Lotion. Powerful actives and micro-electrical impulses firm underlying muscle tissue, lift and enhance bust after just one session. Plump wrinkles on the neck, decolette and bust.

Book 5 treatments and receive the 6th free.

A series of 8 treatments is recommended with 2 treatments per week for optimum results
Price:
- 45 mins £75
Green Coffee Body Sculpting
Shape and define your silhouette

A duo massage treatment incorporating massage techniques designed to reduce bloating and stimulate the flow of lymph and microcirculation, Fat burning coffee and thermogenic (heat stimulating) chilli to target problem areas such as thighs, waist, tummy and bottom.

The treatment uses a salon strength body oil as the first massage which heats the body. Heating the body helps increase the fat burning effects of the other ingredients and helps stimulate blood flow which helps improve oxygenation of the skin. Result flatter tummy, smoother skin, reduced puffiness.

The second massage used our latest salon strength body sculpting gel which incorporates lipolytic agents and toning ingredients to continue the process but also contains cooling agents to cool the skin. The alternate heat /cool has an extra stimulating effect on the lymphatic system. It also contains a system for slow release.
- 60mins £70
Book 5 treatments and receive the 6th free.
Body Contouring and Inch Loss
Exclusive to The Organic Pharmacy, Lipoderm uses the latest in Radio Frequency and Ultrasound technology.

This groundbreaking technology in conjunction with our highly active organic extracts give remarkable results.

Radio Frequency is the latest and most effective non-surgical body sculpting treatment. This cutting edge technology and equipment safely deliver controlled amounts of wavelengths of electromagnetic energy to the lower layers of the dermis that contain collagen and fats.

When Radio Frequency meets collagen resulting resistance and heat caused the collagen to contract and tighten. The heat also stimulates the production and growth of new collagen fibres, making this ideal for areas of loose sagging skin on the face and body that require tightening.

Ultrasound energy targets areas of fat, resulting in the breakdown of pockets of fat to be renewed naturally by the bodily lymphatic and circulatory system. Ideal for treating cellulite and stubborn fat in arms, legs, stomach, buttocks and thighs.

A course of 8 treatments are recommended but results are visible from the first treatment.
- 60 mins £150 : 30 mins massage + 30 mins Collagen RF
- 90 mins £170 : 60 mins massage + 30 mins Collagen RF
- 120 mins £190 : 90mins massage + 30 mins Collagen RF
Lipoderm &Inch loss Radio Frequency
Thighs (front & back): Course of 8 £1000
Abdominals
Course of 8 £900
Buttocks
Course of 8 £900
Upper arms (front & back)
Course of 8 £800
Individual treatment for all areas £195
Our massages are always tailored to your needs

Choose from one of our massage treatments and add our radio frequency treatment to firm and tone your body.
Price:
- 30 mins £100
For those in need of some deep relaxation but not yet ready to return to our normal treatments, the Zero Gravity massage system is for you – this fully clothed, non-contact massage chair has up to 15 different settings to allow for personalised therapy. Spend 30 min with your eyes closed, listening to your own music – all without the need to undress. Really worthwhile pick me up therapy
Price:
- 30 mins £25
---
---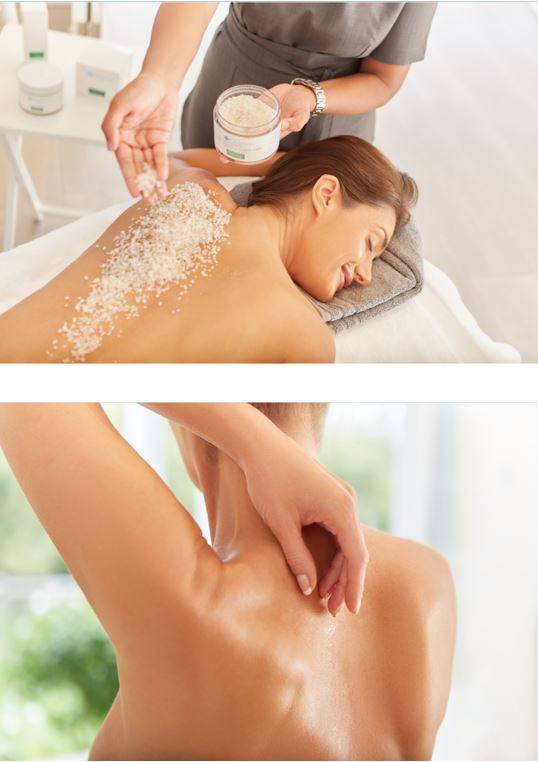 CANCELLATIONS / RESCHEDULING POLICY
A minimum of 24 hours notice is required in the case of cancellation or rescheduling. Without 24 hours notice, the full rate is chargeable. When booking we require a credit card number to secure the appointment.
All treatments and treatment courses are non-refundable.