This mask is the first biotech protection mask that provides a protection standard comparable to an ffp3 and lasts up to 200 hours of effective use. If used for 8 hours daily, this mask will last for approximately 25 days.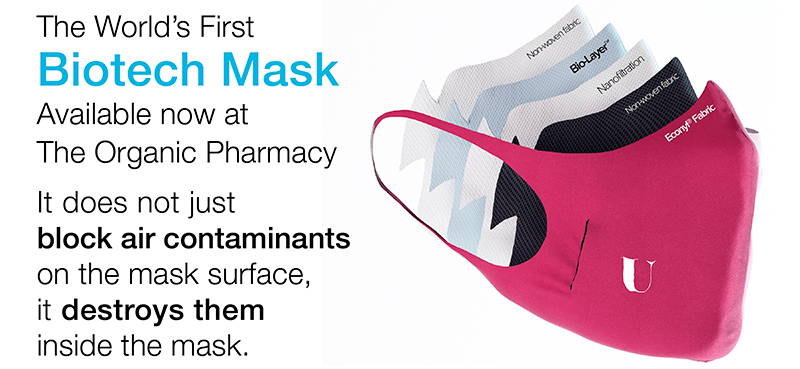 The refill features four layers of filtration, it is self-sanitizing and anti-proliferative, meaning that it prevents the growth and spread of viruses and bacteria on the mask surface. It is natural and absolutely non-toxic for humans, and offers guaranteed results for at least 150-200 hours of effective use.
This mask is entirely produced in Italy with sustainable and effective materials. The cover is made of an Econyl ® Lycra, which features a nylon thread recycled from the ocean's plastic. The result is an extremely comfortable fit for prolonged periods.
* Common reusable personal protection masks are like all membrane filters which have a downside due to potential accumulation and growth of bacteria between the layers which proliferate between uses. This is why disposable masks are used in medical environments and should not be used for more than one shift.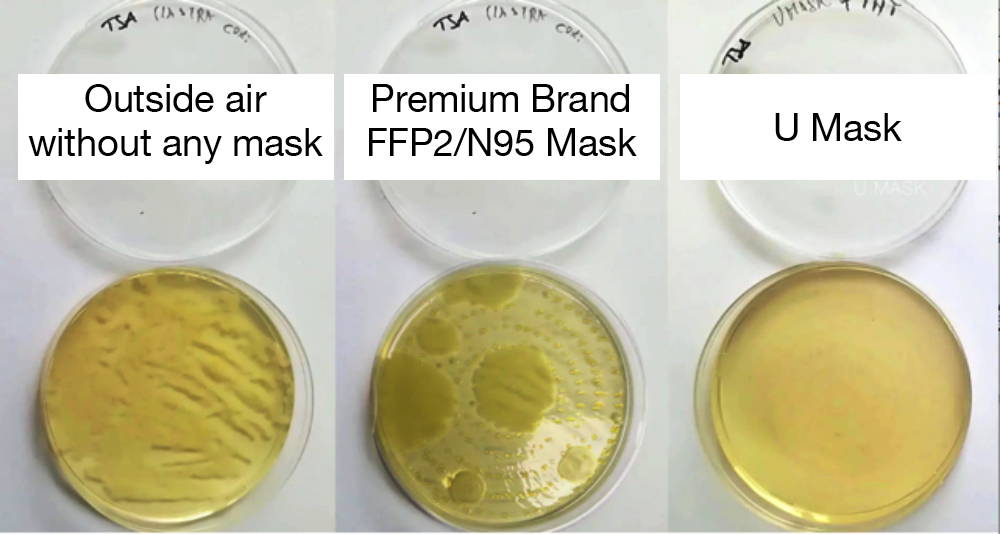 This mask has been specifically designed to limit contagion between individuals and is the perfect personal protection durable shield to lower the exposure to airborne disease and contaminants both for wearer and people around.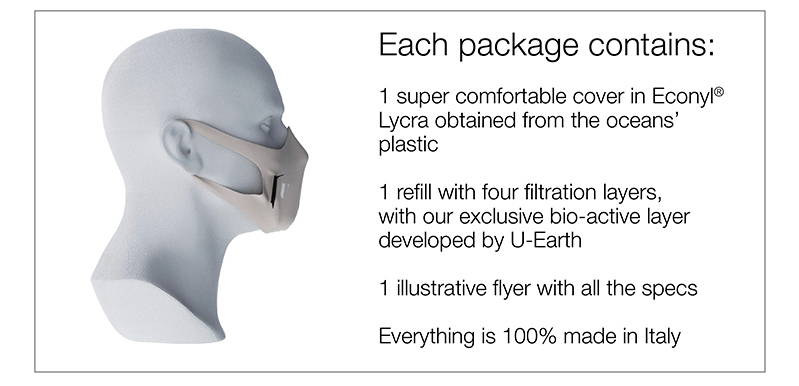 How to wash and take care of your mask
Econyl Lycra Cover: The outer part of the mask (the coloured cover), can be safely washed under water or in the washing machine at low temperatures. After, you can let it dry by hanging it. Do not tumble dry.
Inner Refill: The inner part of the mask can be cleaned with a warm damp cloth or a wipe that doesn't use chemicals. Do not wash nor submerge under water.
Storage and further use:
Make sure that both the refill and the cover are completely dry before use. You can safely store your mask in the original sachet when not in use.
Remember that the mask Refill lasts for 200 hours of use or 1 year after opening it. This means that you can breathe in it for 200 hours within a year from opening the sachet. The cover can be used as much as you like, however if used a lot it may ruin and may need to be replaced.